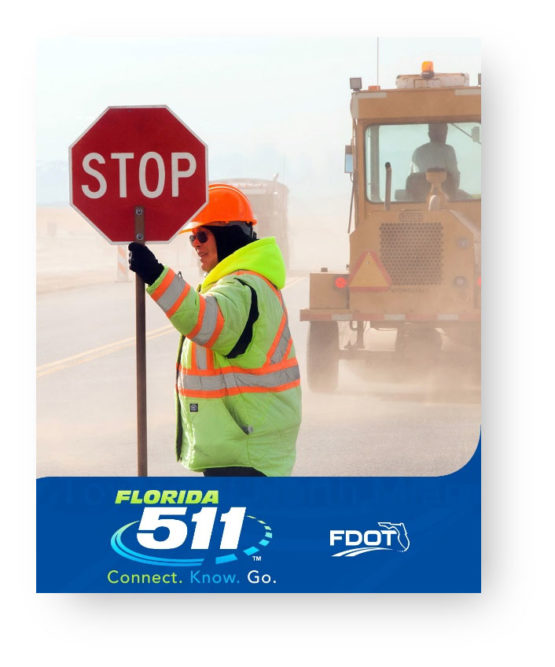 TALLAHASSEE, FL – The Florida Department of Transportation (FDOT) and the Florida 511 Advanced Traveler Information System (FL511) recognize a vital motor traffic safety campaign annually each April. FDOT and its FL511 team support National Work Zone Awareness Week, which is April 11 to 15 this year. 
Throughout the year, it is not unusual to encounter flaggers, pylons, and then a highway work zone while driving. Often this is a minor inconvenience causing a slight delay. Construction is necessary for the safety of motorists and the maintenance of our roads. It occurs year-round on all roadways – big and small.
The goal of National Work Zone Awareness Week is to remind motorists to use extreme caution in highway work zones. Watch for workers, vehicles, debris, and unusual conditions. Be prepared for sudden stops, use caution when driving around large vehicles, and stay alert. Every year construction workers, motorists and pedestrians are injured and killed in roadwork construction zones. 
Another way to safely maneuver construction zones is to check FL511.com before you begin your drive. This traffic website supported by FDOT shows active construction zones on major roads so you can plan your trip accordingly. FL511 provides real-time traffic info 24/7 for a safer and more efficient motor trip. 
About FL511. The Florida 511 Advanced Traveler Information System (FL511) is the state's official source for traffic and motor travel information. This public information service is brought to you by the Florida Department of Transportation (FDOT) and is accessible by website in English and Spanish, Twitter messages, Facebook, Instagram, YouTube, text alerts, and more. FL511 provides traffic information on Florida's interstates, toll roads and major metropolitan roadways, including crashes, blocked roads, and stalled vehicles; congestion; alerts; driving directions; and much more! The goal is to keep traffic moving safely and efficiently 24/7. For more information, visit FL511.com.