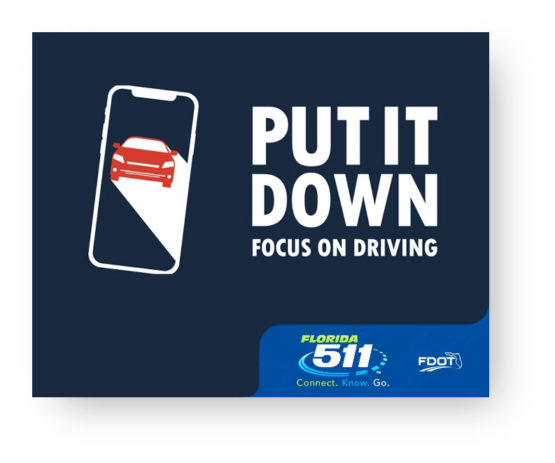 TALLAHASSEE, FL – The Florida Department of Transportation (FDOT) and the Florida 511 Advanced Traveler Information System (FL511) support an important national motor traffic safety observance. FDOT and FL511 support Distracted Driving Awareness Month, which occurs annually each April. The FL511 team supports this national effort to keep drivers focused and roads as safe as possible.
A leading cause of crashes in Florida and the nation – and perhaps one of the most avoidable – is distracted driving. This occurs when the driver is focused on almost anything except the road. Distractions include texting, talking on a mobile phone, using a touch-screen installed in a vehicle, and other actions that may cause distraction while driving.
Texting is a leading cause of distracted driving, especially among teens. FL511 reminds drivers to never text while driving. It is illegal in Florida and also very dangerous. Just a few seconds of texting while driving can have disastrous consequences. Never use the Florida 511 Mobile App when driving. Use it at home, when safely parked off the road, or have a passenger use it if needed. 
For a safe and efficient trip, visit the FL511.com website and plan your drive ahead of time. Get directions, travel times, and see current incidents, congestion, weather and other traffic conditions. View camera snapshot images for real-time road conditions. 
About FL511. The Florida 511 Advanced Traveler Information System (FL511) is the state's official source for traffic and motor travel information. This public information service is brought to you by the Florida Department of Transportation (FDOT) and is accessible by website in English and Spanish, Twitter messages, Facebook, Instagram, YouTube, text alerts, and more. FL511 provides traffic information on Florida's interstates, toll roads and major metropolitan roadways, including crashes, blocked roads, and stalled vehicles; congestion; alerts; driving directions; and much more! The goal is to keep traffic moving safely and efficiently 24/7. For more information, visit FL511.com.