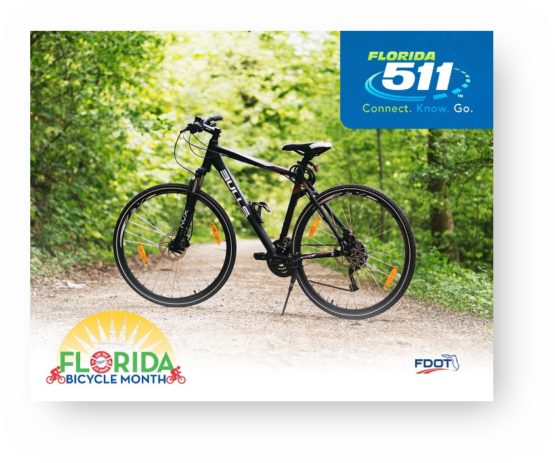 TALLAHASSEE, FL – The Florida Department of Transportation (FDOT) and the Florida 511 Advanced Traveler Information System (FL511) support Florida Bicycle Month, which is recognized annually each March. This is a statewide observance to encourage the use of bicycles for transportation, recreation, and exercise and emphasize safety practices to keep bicyclists safe.
Bicycling is very popular in Florida for many reasons: it is a fun source of recreation, good exercise, helps people maintain a proper weight, and is an inexpensive form of transportation. For many people, it may be their only form of transportation. Bicyclists of all ages can be found on both urban and rural roads. Bicycles include road, comfort, off-road, e-bikes (electronic), and more. 
A bicycle is considered a vehicle and follows the same rules of the road as automobiles, with a few exceptions. FDOT and its FL511 team remind motorists to always watch for bicycles. Younger bicyclists especially can unexpectedly dart out into the road. A bicycle is no match for a car. If a collision occurs, the bicyclist almost always is more seriously injured than the driver of an automobile. 
Another way to reduce the chance of bicycle collisions and injuries is to use Florida 511 before a motor trip. Check current road conditions which include incidents, blocked roads, congestion, weather, and many other factors. Never text behind the wheel. Know before you go with real-time traffic info 24/7 on FL511. 
About FL511. The Florida 511 Advanced Traveler Information System (FL511) is the state's official source for traffic and motor travel information. This public information service is brought to you by the Florida Department of Transportation (FDOT) and is accessible by website in English and Spanish, Twitter messages, Facebook, Instagram, YouTube, text alerts, and more. FL511 provides traffic information on Florida's interstates, toll roads and major metropolitan roadways, including crashes, blocked roads, and stalled vehicles; congestion; alerts; driving directions; and much more! The goal is to keep traffic moving safely and efficiently 24/7. For more information, visit FL511.com.