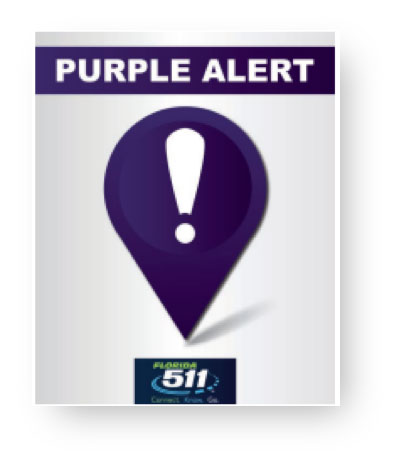 TALLAHASSEE, FL – In July 2021, Gov. Ron DeSantis signed an important bill into law to help protect mentally and physically disadvantaged adults in Florida. The bill established Purple Alerts, which are for persons 26 years or older in Florida with mental or physical disabilities who are missing and in immediate danger. The Florida 511 Advanced Traveler Information System (FL511) will distribute Purple Alerts with information about these missing individuals to find them safely and quickly. 
The Purple Alert joins the existing AMBER, Silver and Blue Alerts. AMBER Alerts are for children who have been abducted and are in immediate danger. Silver Alerts are for senior citizens with Alzheimer's disease, dementia or other mental disabilities who are missing and perceived to be in danger. Blue Alerts assist law enforcement to find those responsible for injuring, abducting, or ending the life of a law enforcement officer. Numerous state agencies broadcast these alerts once activated. 
Purple Alerts are now broadcast on the FL511 traffic information system along with the Blue, AMBER and Silver Alerts in three ways:
Alerts on the FL511 system
Twitter feed messages
Email and text alerts
For more information, please visit FL511.com.
About FL511. The Florida 511 Advanced Traveler Information System (FL511) is the state's official source for traffic and motor travel information. This public information service is brought to you by the Florida Department of Transportation (FDOT) and is accessible by website in English and Spanish, Twitter messages, Facebook, Instagram, YouTube, text alerts, and more. FL511 provides traffic information on Florida's interstates, toll roads, and major metropolitan roadways, including crashes, blocked roads, and stalled vehicles; congestion; alerts; driving directions; and much more! The goal is to keep traffic moving safely and efficiently 24/7. For more information, visit FL511.com.