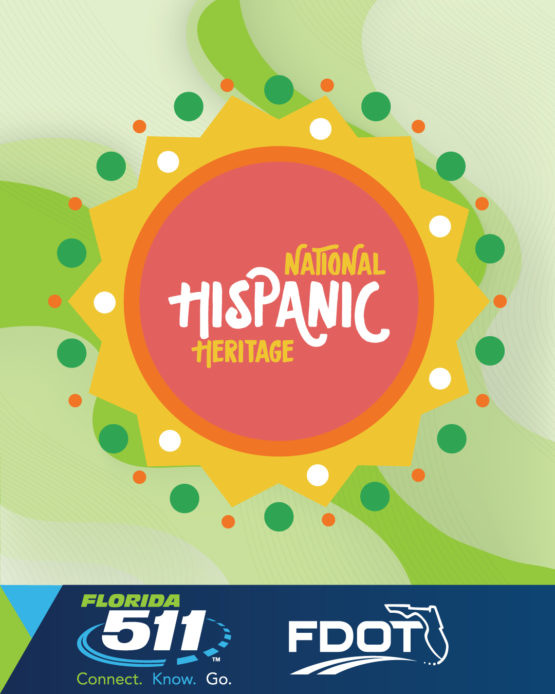 TALLAHASSEE, FL – September 15 to October 15 is celebrated nationwide as Hispanic Heritage Month. FL511 joins in to celebrate and recognize the significant contributions people of Hispanic origin have made in the United States, including its history, arts and culture, sports, academia, government, economic development, and many other areas.
Florida is home to the third largest Hispanic population in the country. Nearly 5.6 million Hispanic people (26.5% of the total population) call the Sunshine State home.
This year FL511 is celebrating Hispanic Heritage Month with a first-ever Spanish-language edition of the eNews newsletter, featuring major events celebrating the culture and history of Hispanic people across the Sunshine State. It will be released on September 15 and can be found on FL511.com in the newsroom section.
Hispanic Heritage Month is celebrated through festivals, art shows, conferences, community gatherings, other cultural events, and much more in most towns and cities throughout the state. Consider using Florida 511 Advanced Traveler Information System (FL511) for motor travel and traffic information to get to your destination during Hispanic Heritage Month and subsequent months.
The FL511 website is available in English and Spanish. Visit FL511.com before driving for a wide array of features to travel smart. These features include personalized accounts to receive text or email alerts, real-time cameras, current traffic incidents such as stalled cars, congestion and traffic speeds and much more to ensure your motor trip is as safe and efficient as possible. Through FL511, you can get directions to any destination in Florida along with travel times and see road closures, construction zones, and many other real-time conditions that affect a motor trip.
About FL511. The Florida 511 Advanced Traveler Information System (FL511) is the state's official source for traffic and motor travel information. This public information service is brought to you by the Florida Department of Transportation (FDOT) and is accessible by website in English and Spanish, mobile app, Twitter feeds, Facebook, Instagram, YouTube and text and email alerts. FL511 provides traffic information on Florida's interstates, toll roads, and major metropolitan roadways, including crashes, blocked roads and stalled vehicles; congestion; driving directions; and much more! The goal is to keep traffic moving safely and efficiently 24/7. For more information, visit FL511.com.