Honoring Veterans
This year Veterans Day, November 11th, falls on a Friday. As a result, many people may choose to go out-of-town to take advantage of the three-day holiday weekend. Both the Federal government and State of Florida recognize Veterans Day as an official holiday. Many government offices, banks and other businesses and establishments will be closed on November 11 in observance of the day.
Veterans Day honors all veterans who have served in the U.S. military. The Florida Department of Transportation (FDOT) and its FL511 team encourage citizens to take a moment to recognize America's veterans on November 11th – whether at home or on a trip. Veterans have sacrificed much for the greater good of our country. Ways to honor veterans include attending a Veterans Day observance, thanking a veteran for his or her service, sending a card, visiting a veteran, offering a gift, inviting a veteran to a meal, along with any other kind gestures. And on this day, don't forget to celebrate any family members who have served our country. 
If your plans call for taking a trip to a new or unfamiliar destination, consider using the FL511 website or mobile app for turn-by-turn directions, travel times, current incidents including crashes, stalled vehicles and detours, congestion, traffic speeds, real-time camera images, and much more. This November 11, thank a veteran for his or her service and travel safely as well!
Use FL511 to Navigate Holiday Traffic
'Tis the season … to be thankful, to observe, to be merry, and to ring in the new year!
The final two months of the year bring holiday cheer and celebration to many sectors of our society in Florida and the United States. The holiday season gets a start with Thanksgiving on November 24 with family gatherings and a delicious turkey feast. Hanukkah is a Jewish religious observance celebrated from nightfall December 18 to nightfall December 26 this year. The Christian festival of Christmas is December 25, with many attending church and celebrating in other ways on December 24. Kwanzaa is an observance of African family and social values from December 26 to January 1. Lastly, the 2022 merriment and celebrations conclude at midnight, New Year's Eve with fireworks, singing Auld Lang Syne, and ringing in the new year. 
From Thanksgiving through January1, we can expect more vehicles on the road and possibly some frantic drivers. People are traveling to visit loved ones, for vacations, to shop (and shop and shop), to buy groceries for festive occasions, and for many other reasons.
FDOT and its FL511 team encourage residents to use FL511 before driving this holiday season – near or far. The system provides a wealth of information available in three formats to fit the needs of most drivers in Florida. Features include turn-by-turn directions and travel times, real-time camera images on major roads throughout the state of Florida, weather information, personalized accounts and alerts via text and email, and other information provided by FDOT. Motorists are encouraged to check the website, mobile app or Twitter feeds before leaving home for current traffic conditions so they can plan their trip accordingly. The Florida 511 Mobile App is available in both the Apple App Store and Google Play. Events and additional information can be found on Facebook, Instagram and YouTube.
Please enjoy everything this holiday season has to offer and travel more safely and efficiently with FL511.
Ensuring Safety of Older Drivers
It's no secret that Florida has a large population of older drivers. Every year sees more retirees moving to the Sunshine State to live out their golden years. In addition, many become snowbirds visiting Florida in the winter to escape cold and snow.
Most seniors are very safe drivers. However, as we age our cognitive abilities and motor skills can decline.
Along with an aging population can come driving concerns. FDOT and its FL511 team support Older Driver Safety Awareness Week, sponsored by the American Occupational Therapy Association. This occurs in the first week of December and is December 5 to 9 this year. The goal is to keep seniors driving as long as possible under safe circumstances. If this is no longer possible, a range of options and resources can be provided to seniors to allow them to stay mobile and independent.
Most seniors are very safe drivers. However, as we age our cognitive abilities and motor skills can decline. Are you worried about the driving skills of a senior in your family? If so, consider using the month of December to discuss these concerns with a loved one. It is an ideal time with many family events planned. If needed, both self-directed and professional "driving fitness evaluations" are available. The goal is safety of both the older driver and others on the road. 
Resources are available to help older drivers stay on the road as they age and then find alternative sources of transportation to remain independent. In the meantime, seniors who drive may consider using FL511 for both a safer and more efficient trip.
Use FL511 for College Football Bowl Games
For many, one of the best things about the end of the year is college football bowl games. Months of regular season play is wrapped up for a few teams who earn a coveted spot in a bowl game. These games are often nationally televised and very exciting to watch.
Florida is hosting six college bowl games from December 16 to December 30. If you plan to go in person, please check for ticket availability first. Some may be sold out. Many will be broadcast on television.
FDOT and its FL511 team encourage those going to a bowl game to check FL511 in advance for traffic conditions on route to the stadium or field. The FL511 website, mobile app and Twitter feeds post real-time incidents on major roads, traffic speeds and congestion, allowing drivers to plan their trip accordingly. Motorists who live in the area of a game or who will be passing by are encouraged to do the same. Here are the six college football bowl games in Florida this year:
Cure Bowl, December 16 at 3 p.m.,
Exploria Stadium, Orlando
Boca Raton Bowl, December 20
at 7:30 p.m., FAU Stadium, Boca Raton
Gasparilla Bowl, December 23 at 6:30 p.m.,
Raymond James Stadium, Tampa
Cheez-It Bowl, December 29 at 5:30 p.m.,
Camping World Stadium, Orlando
Orange Bowl, December 30 at 7:30 p.m.,
Hard Rock Stadium, Miami
Gator Bowl, December 30 at 3:30 p.m.,
TIAA Bank Field, Jacksonville
November and December events around the Sunshine State.
Consider using Florida 511 for turn-by-turn directions to these or an event in your community!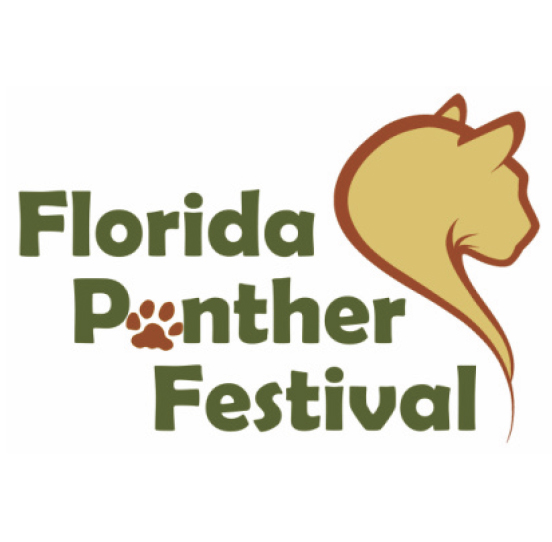 November 5 (9 a.m. to 1 p.m.)
The Florida Panther Festival typically welcomes four to five thousand guests each year to the Naples Zoo on the first Saturday in November. This family-friendly event celebrates local wildlife including the endangered Florida panther, features exhibits by area conservation partners, and offers opportunities to speak with wildlife experts.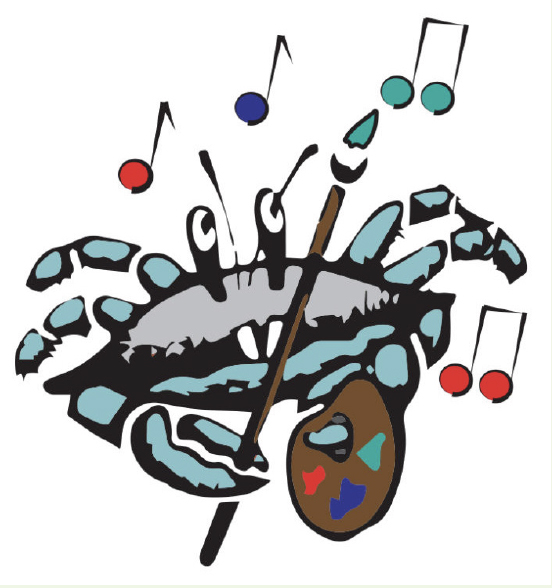 November 12-13, 2022
As many as 25,000 people are expected to visit the area for this beloved fall festival in West Central Florida. Sponsored by the Homosassa Civic Club, it features a wide array of arts, crafts, entertainment and seafood. Proceeds benefit the community.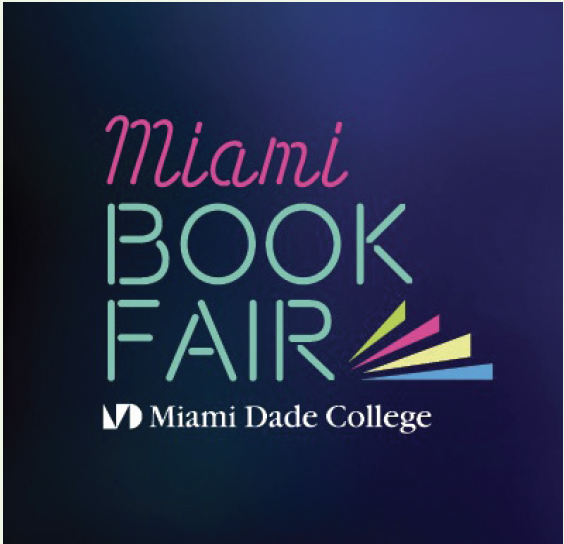 October 13-20, 2022
Miami Book Fair is an annual eight-day festival – typically featuring more than 500 authors, 200,000 attendees, 200 national and international book exhibitors, and a robust schedule of literary, cultural and educational events. It is supported by 1,000 volunteers and also provides programming year-round.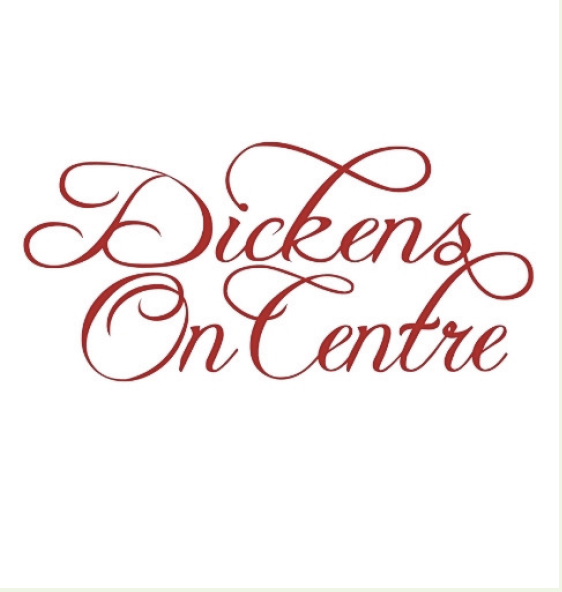 December 8-11, 2022
Travel back in time during the eighth annual Dickens on Centre festival. This Victorian holiday festival features entertainment, Tiny Tim's Kids Zone, visits with St. Nick, holiday shopping, festive food and drink, costumed characters, holiday movies and plenty of Christmas inspiration.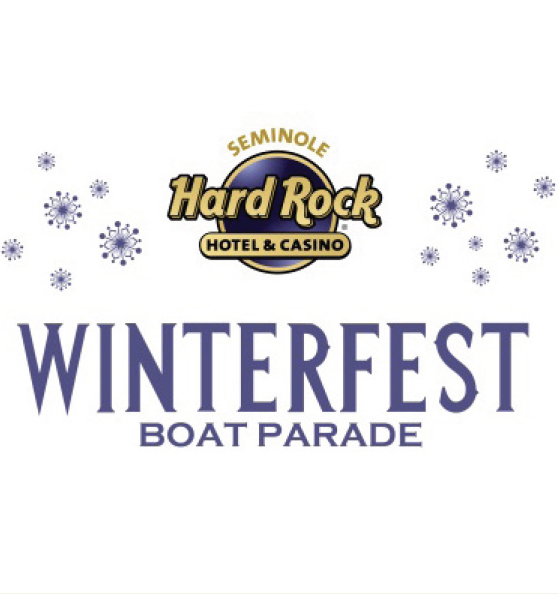 Seminole Hard Rock Winterfest Boat Parade
(Starts in Fort Lauderdale)
December 10, 2022
6:30 p.m. to 8:30 p.m
More than 1 million spectators are expected to view this amazing holiday boat parade as it makes its way on a 12-mile journey to Pompano Beach. Boats of all sizes and types will feature hundreds of thousands of lights, music, entertainment, decorations, celebrities and more.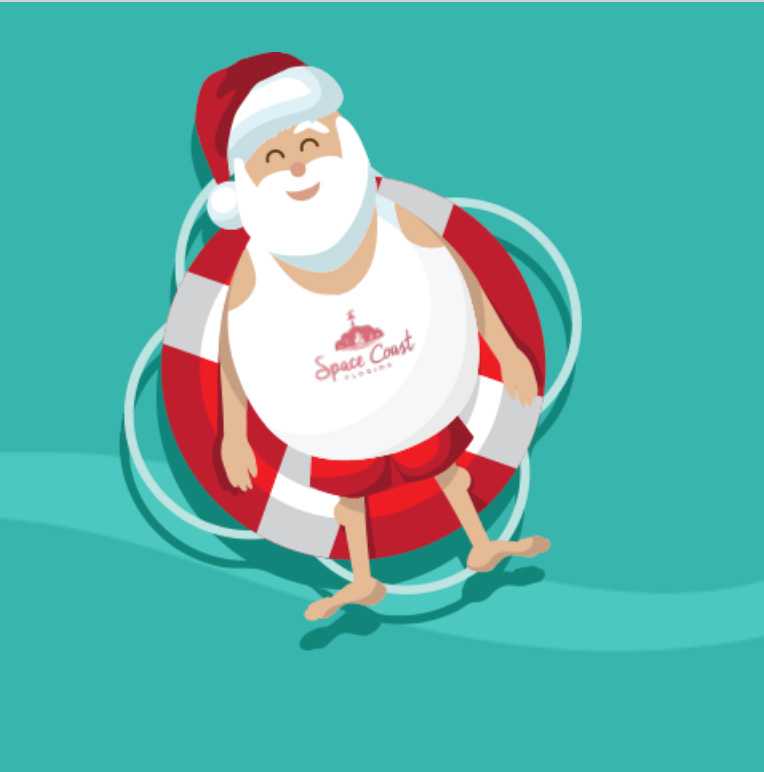 December 24, 2022 – 8 a.m.
Before Santa delivers toys and gifts, he's been breaking away to catch some waves on Christmas Eve morning. Surfing Santas is an annual Cocoa Beach tradition that brings hundreds of surfers dressed up as Santa and thousands of spectators. Watch them ride the waves to kick off your holiday, beach-side.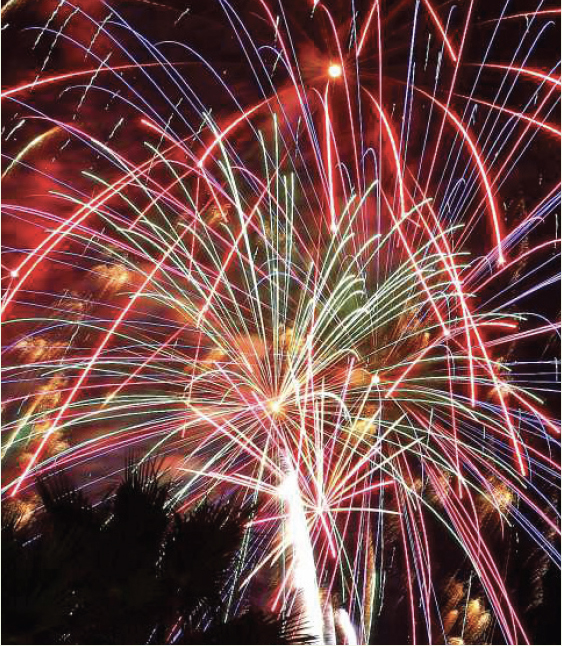 2022 New Year's Eve Beach Ball Drop (Panama City Beach)
December 31, 2022 – 8 p.m. and midnight
Two separate beach ball drops are featured for families with kids and those who want to stay up to midnight, or watch both! The streets of Pier Park are closed off to traffic as thousands of revelers enjoy live music, entertainment, fireworks and good cheer.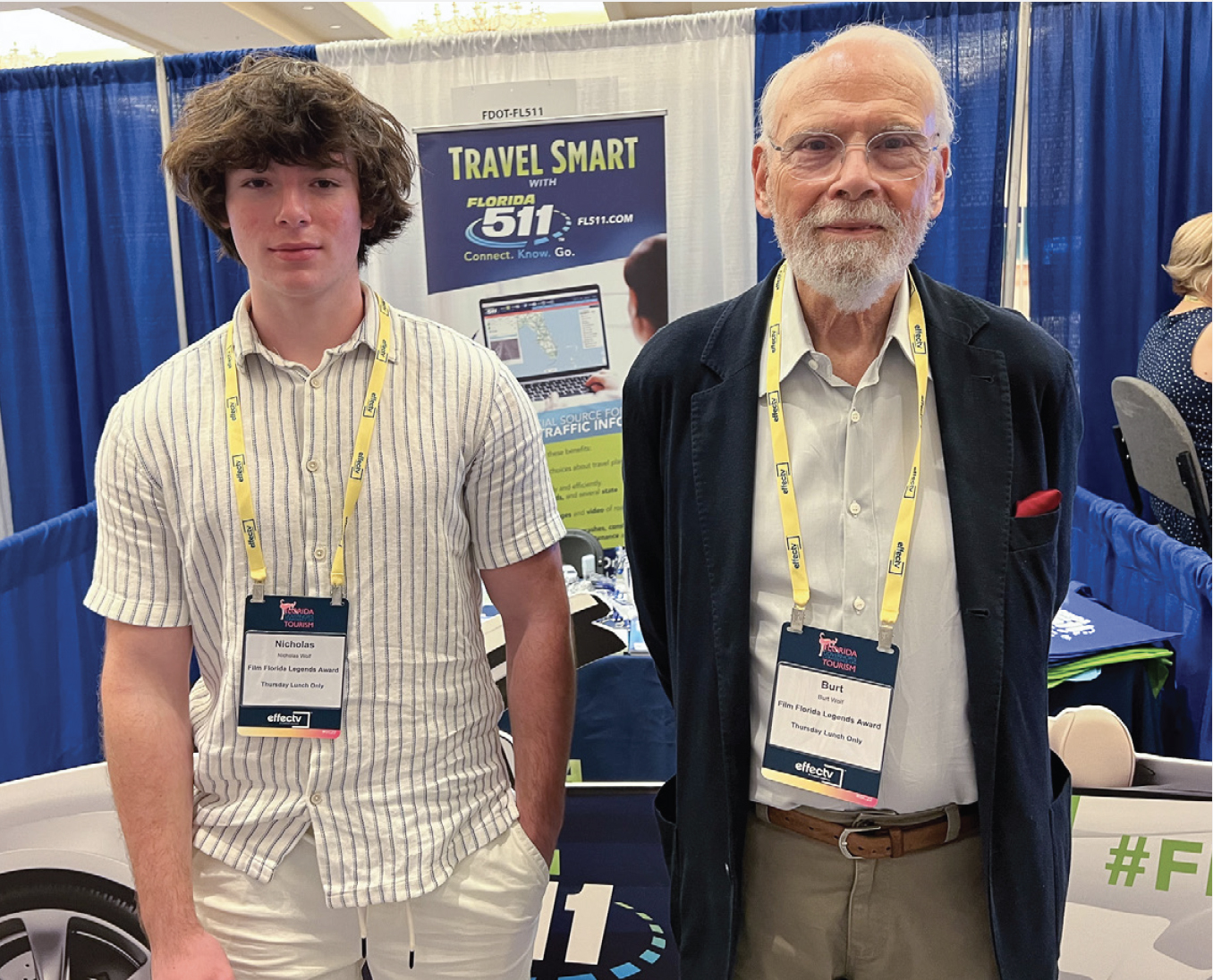 Journalist Burt Wolf (Pictured with Nicholas Wolf) stopped by the FL511 booth after receiving the Film Florida Legends Award.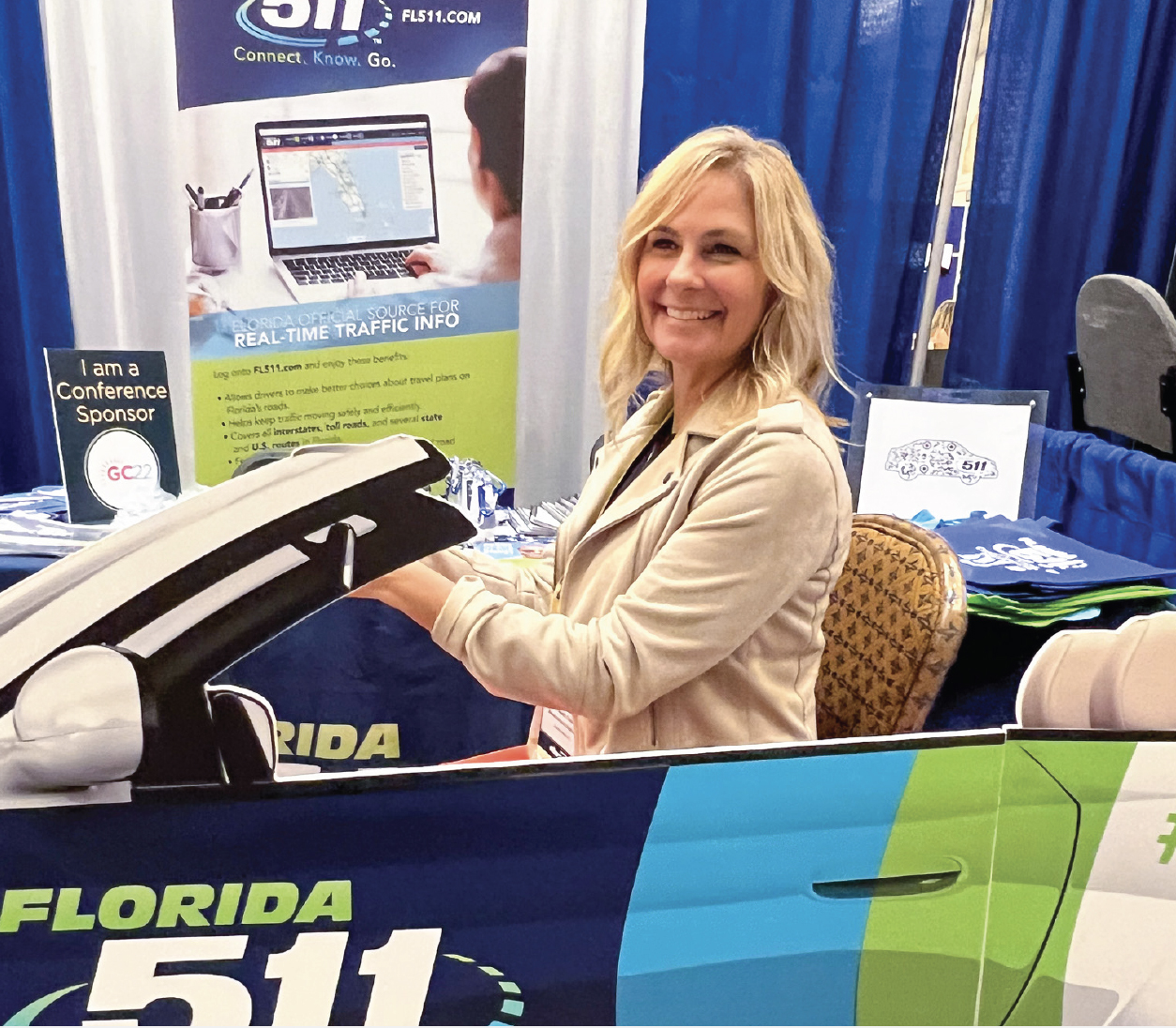 TV News Veteran Suzanne Boyd shares her thoughts about FL511! Click here to view the video
Florida Governor's Conference on Tourism
Florida 511 was an exhibitor at the Florida Governor's Conference on Tourism from August 31 to September 2 in Boca Raton. This is the premier educational conference for the Florida tourism industry. Representatives of FL511 shared information with attendees on how this travel information system benefits both visitors and those in the tourism industry. 
 

FL511's Suite of Services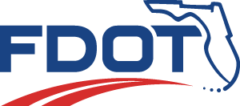 © 2022 Florida Department of Transportation
605 Suwannee St. Tallahassee, FL 32399