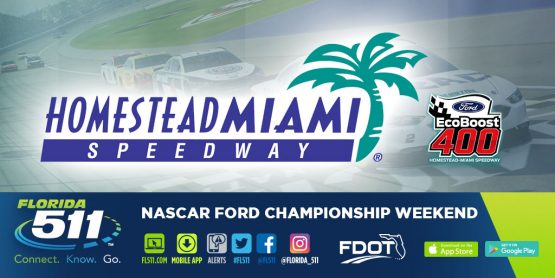 TALLAHASSEE, Fla. – The Homestead Miami Speedway will host NASCAR's Ford Championship Weekend, scheduled for November 15-17. As you head to the event, the Florida Department of Transportation (FDOT) encourages you to use FL511, the state's official source for real-time traffic and travel information to minimize delays and ensure a timely arrival.
The FL511 Mobile App provides directions to any destination in Florida with travel times and alternate routes on most roadways throughout the state. Users can also get information on crashes, congestion, construction, and closures on Florida's interstates, toll roads, and other major roadways. The FL511 Mobile App has destination-based routing and the ability to speak your request to the app. For destination-based routing, users enter their destination and are provided multiple routes with travel time based on current traffic conditions. Another feature is the Drive Mode. While in drive mode, users receive detailed alerts for incidents occurring along their route. When requesting information using voice interaction feature, users of the app can now request a city, county, or roadway and the app will play back all associated events within a specific radius.
The Florida 511 (FL511) Advanced Traveler Information System (ATIS) is the state's official source for traffic and travel information. This public information service is accessible by mobile app, website in English and Spanish, Twitter messages, Facebook, Instagram, text alerts and more. The FL511 App, website, and Twitter feeds provide information on Florida's interstates, toll roads and other major metropolitan roadways, allowing drivers to avoid unnecessary delays, as well as receive updates on accidents, congestion, construction and more. FL511 provides camera snapshots on major Florida roads, so users can see current road conditions in FL511 covered areas. The goal is to provide information about current conditions to keep traffic moving safely and efficiently. To accomplish its goal, FL511 offers the latest traffic information, 24 hours a day, seven days a week.
Before heading out, drivers should visit the FL511.com website for important traffic information and incident alerts. Once on the road, have a passenger check to avoid using a phone while behind the wheel. Travelers can follow FL511 on 13 Twitter handles, on Facebook @FL511, and Instagram @Florida_511. For more information, visit the website at FL511.com or download the Florida 511 Mobile App on Google Play or the Apple App Store. Travel Smart with the updated Florida 511 Mobile App – Connect. Know. Go.
# # #