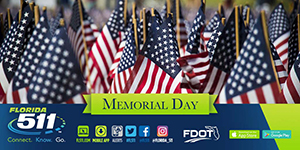 TALLAHASSEE, Fla. – Memorial Day is on its way! The holiday weekend is one of the busiest travel times of the year for motorists getting ready to embark on a much-anticipated getaway.
Whether heading to Disney or Universal in Orlando, South Beach in Miami, or any other popular Memorial Day destination, the Florida Department of Transportation (FDOT) urges motorists to use the Florida 511 (FL511) Advanced Traveler Information System (ATIS) as part of their travel plans.
The FL511 system is the state's official source for traffic and travel information. FL511 provides information on congestion events, crashes, construction and maintenance activities; and travel times on all interstates and toll facilities and several Florida routes, so drivers can make better choices about their travel plans. The free information service is accessible by mobile app, website in English and Spanish, Twitter messages, Facebook, Instagram, texts alerts and more.
FL511 provides camera views on major Florida roads, so users can see road conditions throughout the state. The goal is to provide information about current conditions to keep traffic moving safely and efficiently. To accomplish its goal, FL511 offers the latest information on transportation services and conditions throughout Florida, 24 hours a day, seven days a week.
Before heading out, drivers should visit the FL511.com website for important traffic information and incident alerts. In addition, be sure to download the FL511 Mobile App, now with voice interaction feature and speak a request for your destination.  Once on the road, have a passenger check to avoid using a phone while behind the wheel. Get the Florida 511 Mobile App on Google Play, or download it from the App Store.
Travelers can follow FL511 on 13 Twitter handles, on Facebook @FL511, and Instagram @Florida_511.  For more information, visit the website at www.FL511.com to Connect.Know.Go.