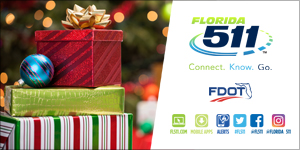 The holiday season is is always a special time of the year. Let Florida 511 (FL511) help navigate your travels during this busy time!
The Florida Department of Transportation's (FDOT) FL511 Advanced Traveler Information System (ATIS) is the state's official source for real-time traffic and travel information. It provides current road and travel conditions in Florida, so drivers can make choices about their travel plans. The service includes a website in English and Spanish, mobile app, Twitter messages, text alerts, and more. FL511 also provides camera views on major Florida roads, so users can see road conditions throughout the state. The goal is to increase driving safety and reduce travel time.
Before heading out, drivers should check the interactive road map on FL511.com for important traffic information and incident alerts in English or Spanish. They can also view roadway camera snapshots showing nearby current driving conditions on their route. The FL511 mobile app, available from the Apple App Store or Google Play, features an interactive map showing traffic congestion and incidents and camera snapshots on roads around the user's location. Download and use the FL511 app for all of your holiday travels.
The FL511 app, website, and twitter feeds provide information on Florida's interstates, toll roads and other major metropolitan roadways, allowing drivers to avoid unnecessary delays, as well as receive updates on accidents, congestion, construction and more. For more information, visit the website at www.FL511.com. We also encourage travelers to follow and like us on one of our 13 Twitter handles; Facebook page @FL511, and Instagram @Florida_511.