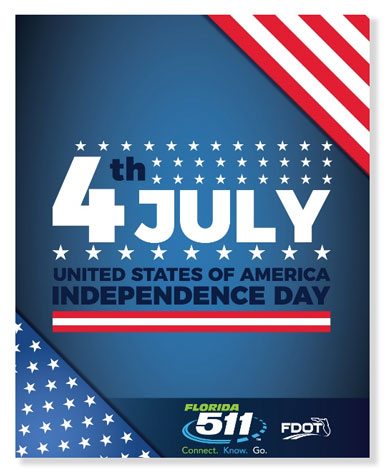 TALLAHASSEE, FL – This Fourth of July weekend is expected to be a busy one on Florida's roads, and the Florida Department of Transportation (FDOT) is encouraging motorists to use Florida 511 to plan their drive.
This year the official holiday, July 4, falls on a Monday. As a result, many people will take to the roads in Florida for a long weekend from Friday, July 1 through Monday, July 4. Others will stay in town and enjoy festivities, fireworks, and backyard barbecues with family and friends.
Whether driving near or far, please consider using FL511 to plan your drive. Before leaving home, check FL511.com, the Florida 511 Mobile App, or the FL511 Twitter feeds for current traffic information. This includes incidents such as crashes, disabled vehicles and stalled cars; weather alerts; real-time camera images throughout the state (on the website only); a convenient truck parking availability feature for truckers; and many other features. Upon returning home, check a platform convenient to you to make your return-trip driving plans. Connect, know and go this Independence Day with FL511!
About FL511. The Florida 511 Advanced Traveler Information System (FL511) is the state's official source for traffic and motor travel information. This public service is brought to you by the Florida Department of Transportation (FDOT) and is accessible by website in English and Spanish, mobile app, Twitter feeds, Facebook, Instagram, YouTube, and text and email alerts. FL511 provides traffic information on Florida's interstates, toll roads and major metropolitan roadways, including crashes, blocked roads, detours, congestion, driving directions, travel times, and much more! The Florida 511 Mobile App is available on Google Play and the Apple App Store. The goal is to keep traffic moving safely and efficiently 24/7. For information, visit FL511.com.