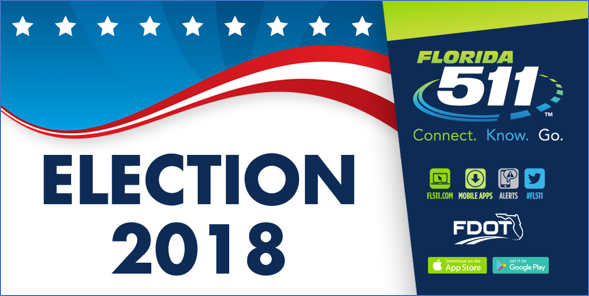 Heading to the polls to vote? Be sure to use the Florida Advanced Traveler Information System (FL511) to help get to your destination with comfort and ease. It's the best source to minimize delays with real-time traffic information and to ensure a timely arrival.
FL511 is from the Florida Department of Transportation, and is the state's official source for real-time traffic and travel information. The FL511 app, website, and twitter feeds provide information on Florida's interstates, toll roads and other major metropolitan roadways, allowing drivers to avoid unnecessary delays, as well as receive updates on crashes, congestion, construction and more.
Before heading out, drivers should check the interactive road map on FL511.com for real-time traffic information and incident alerts in English or Spanish. They can also view roadway cameras showing nearby current driving conditions on their route. The FL511 mobile app, available from the Apple App Store or Google Play, features an interactive map showing traffic congestion and incidents on roads around the user's location.
Download and use the FL511 app on Election Day and every day. For more information, visit the website at www.FL511.com.