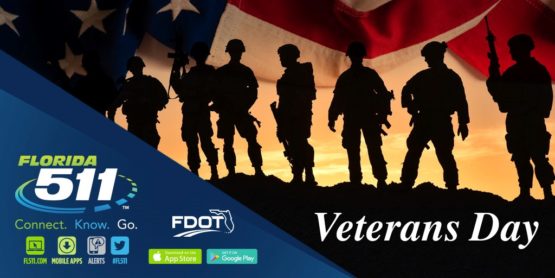 Each November, our nation honors the veterans of America's armed forces who have sacrificed so much to secure the freedoms and peace that we enjoy today in the United States. Veterans Day is a national holiday to celebrate the service of all U.S. military veterans.
Throughout the state of Florida, there will be parades, events and observances in honor of Veterans Day.
FDOT and the FL511 team thank America's veterans for their service. They also urge Floridians to use the Florida 511 Advanced Traveler Information System (FL511) for a safer and less congested trip. It provides the most up-to-date information on traffic and travel conditions, especially on major roads and in larger metropolitan areas. Motorists can also view roadway cameras showing nearby current driving conditions on their route. The FL511 mobile app features an interactive map showing traffic congestion and incidents on roads around the user's location. For more information, please download the FL511 App from the Apple Store or Google Play, or visit the FL511 website www.FL511.com.