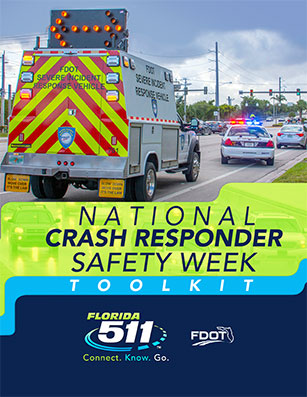 November 14, 2022
Dear News Media Partner:
Greetings!
We are writing to you about an important safety initiative sponsored by the Federal Highway Administration (FHWA) and supported by the Florida Department of Transportation (FDOT), its FL511 team, and other organizations around the state and nation.

Crash Responder Safety Week (CRSW) is November 14-18, 2022. The goals of this national campaign are to save the lives of traffic incident responders and road users. This toolkit provides steps everyone can take to keep our roadway responders and the public safe around traffic incidents.
Every minute of every day, law enforcement, fire and rescue, emergency medical services, public works, transportation, towing, and other responders work roadside to make roadways safe for all road users. Unfortunately, these traffic incident responders put their lives at risk when clearing each of the nearly 7-million annual motor vehicle crashes nationally or the broader range of incidents such as stalled vehicles or roadway debris. Crash Responder Safety Week is an opportunity to promote road user awareness and adherence to Move Over laws and Traffic Incident Management training for all traffic incident responders.
FDOT is distributing this toolkit with messages and information about the initiative to raise awareness of important safety tips motorists can take around traffic incidents. We are requesting that members of the media consider publishing information from this toolkit in your publication or media site. Please use what may be appropriate for your audience.
Thank you very much in advance,
Florida Department of Transportation
Q&A: FL511 and the Florida 511 Mobile App
---
Travel smart with FL511 and connect, know, and go! 
Florida 511 Mobile App Overview
---
The Florida 511 Mobile App is a component of the Florida 511 (FL511) Advanced Traveler Information System (ATIS), which provides real-time traffic information and travel conditions on Florida's roads. The FL511 system is the state's official source for traffic and travel information. 
An invaluable app, FL511 provides information on congestion events, crashes, construction zones and road maintenance activities. FL511 also provides travel times on all interstates, toll roads and alternative routes, so drivers can make better choices about their travel plans. The information is accessible by the mobile app, a website (FL511.com) in English and Spanish, Twitter messages, Facebook, Instagram, text alerts and more.
Features of the Florida 511 Mobile App and some of the latest improvements include:
A completely redesigned user interface
Ability to display road closures and detour routes on the map
Ability to receive road weather alerts
Access to weather radar overlay information
Receive up-to-date information about congestion, crashes, construction zones, road closures and more
Benefit from voice interaction feature functionality – users can speak a request for a city, county, or roadway to view relevant events and information
Ability to view events within a specific radius
Ability to view camera snapshots for specific events
Ability to create and save destinations
A truck parking availability feature
Ability to travel smart with the Florida 511 Mobile App to Connect, Know, and Go!
Before leaving for their destination, motorists can check the interactive road map on FL511.com for up-to-date information about congestion, crashes, construction zones, road closures and more. 
For more information, visit the website at www.FL511.com or download the mobile app. Travelers can also follow FL511 on 13 Twitter handles, on Facebook @FL511, and Instagram @Florida_511. Travel smart with the Florida 511 Mobile App to Connect, Know, and Go!
Strategic Communications Links
---
Here are some helpful links from the FL511 website for the media:
FL511 media resources on this website: